Chandeleriva is a grand old diva who faces her demons of her past with great humour, passion and magic. She is returning to the spot light for a comeback concert.
Born in Vroshlovilik a very far, far, far way land, she reminisces about her adoring, but flatulent, grandfather; her talented alcoholic mother and somewhat air-headed love of her life, Pedro (portrayed quite realistically by a blow up doll).
The legendary star wears her heart on her sleeve. She has moments of poignant and undeniable truth contrast to her hysterical ridiculusness. She always leaves the audience touched, moved and inspired.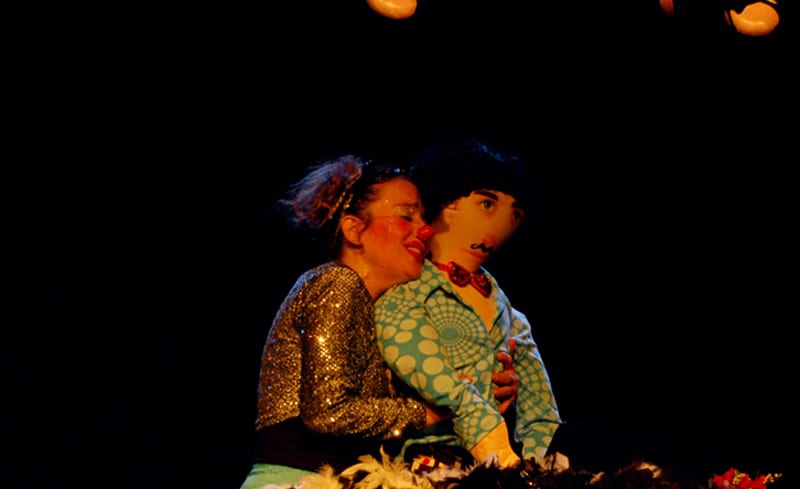 "Music, clowning, improv, props, laughs, character, gibberish and so, many flowers. It all comes together in one lady's very capable hands."
CHANDELEIRVA: (A) ONE WOMAN SHOWS(S) US WHAT IT IS TO BE FEARLESS
"Come see Suzette Araujo resume the title role in the one-woman production of Chandeleirva. Araujo, a Cirque de Soleil alum, stars as the "free-spirited diva who faces her tumultuous past with humor and passion." This is a role she has performed at Fringe Festivals since 2004 and along the way has perfected the balance between silly/absurd and refreshingly touching. It's a delicate line and Araujo walks it well."
by Joella Panisch
SOHO Journall – New York August 20th, 2008
"Wow! Suzette Araujo's passionate, powerful and very funny one-women show takes you on a whirlwind journey, as the talented performer shares stories from her wacky and sometimes troubled life. Making smart use of costumes and props, Araujo transitions smoothly through multiple characters (including her mother and grandfather), each distinctly drawn; she also sings, and reveals a quick wit in interactions with the audience. Though her tales are sometimes sad, Araujo's lighthearted performance never sinks into self-pity. If you want to spend some time with a quirky and interesting lady, I highly recommend this one."–by Sasha Benjamin
TimeOut New York – Chandeleirva – 4-star ****
Chandeleirva was the creme-de-la-creme of Fringe 2006. It was a tour-de-force performance by a clown so endearing, so hysterical, that every little glance, smile or word was just perfect. She had the audience from the moment she stepped on stage and the ovation afterwards lasted well into the night………
Chandeleirva's playfullness, thoughtfullness and naughtiness gave the show a lot of depth. Though it was mostly silly, it still felt like you could learn some life lessons form this remarkable character.
If I could, I would see this show again and again. Highly Recommended!"
http://www.withoutannette.net/blog/?=200606
Dear Annette, – Montreal 2006
"With ton of charm and ample laughter, the show startles with its vitality. The tone is set for a fun ride."
Best Opening: Chandeleirva
Chandeleriva's ending had me laughing and leaping out of my seat. She ended the show with a brilliant call-back that was so over-the-top, only she could pull it off.
Best Closing: (tie) Chandeleirva and…….
Music, clowning, improv, props, laughs, character, gibberish and so, many flowers. It all comes together in one lady's very capable hands.
Best One Person Show: Chandeleriva
Suzette Araujo's one-woman show had us laughing from beginning to end, with incredible impersonations of a baby, a caring but incomprehensible grandfather, a drunk mother, and the main character. Araujo's plays with the audience instead of to the audience and can make you smile just by smiling herself. She was so charming, you could just die. And we did. Chandeleriva gets our I died rating of the Fringe.
by B.J.Swank
Best Show: Chandeleirva
Suzette Araujo presents a one-woman musical that proves clowning has assumed drag's title as edgiest theatrical form. The life of a diva clown sounds like a dangerous
idea, but sharp direction–drawing on equal parts Vaudeville and Vegas–along with Araujo's vocal talents pull it together into a delightful and moving grotesquery.
The character of Chandeleirva, with her booze and boas, manages to fart her way into
our hearts while telling a story of parental abandonment and failed romance. If there's
and award for the most moving duet with an inflatable doll since Airplane! This clown wins hands down. BJD
Eye Magazine, Toronto 07.08.04 – 5 stars *****
Suzette Araujo's delightful red-nosed clown–an applause-hungry diva who slips and slides her way around the stage–is a delight, whether she's singing, flirting with the audience or recounting her life and loves. JK
Now Magazine, Toronto 2004 – NNN